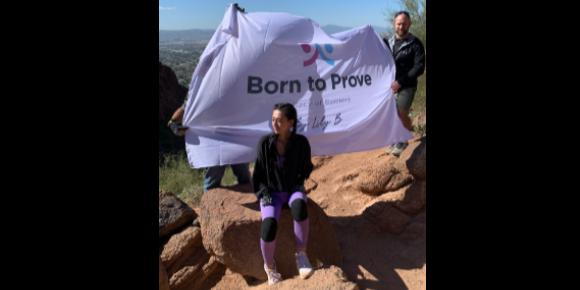 PRESS RELEASE FOR IMMEDIATE RELEASE March 7, 2022 
22-YEAR-OLD WOMAN LIVING WITH MUSCULAR DYSTROPHY SCALES CAMELBACK MOUNTAIN…DECLARING IT PHYSICAL INDEPENDENCE DAY Scottsdale, Arizona, March 6, 2022 – 
Lilian Brasch, a 22-year-old woman afflicted with a rare form of Muscular Dystrophy, climbed Camelback Mountain (Scottsdale, AZ) on March 6th and upon reaching her summit (2,000 feet elevation) officially proclaimed it "Physical Independence Day" by placing a banner in the ground. 
Moving forward, Lilian hopes that we can universally observe March 6th as a day to celebrate the human spirit and recognize those who are dealing with physical conditions that strive to be independent, and appreciate those who are assisting them to achieve their goals. It is significant to note that Lilian has limited mobility and uses a wheelchair. 
It is perhaps no surprise Lilian was motivated to accomplish this difficult challenge labeled "My Everest" on this date due to the fact that March is National Women's history month. 
Lilian, a Chicago resident, is also a college student, film producer, public speaker, and an activist that seeks to inspire others to go beyond the barriers of life. 
For additional information on Lilian Brasch's courageous journey please visit: https://www.lilybrasch.com/my-everest 
For inquiries please contact: Name: Lili Rose Zayak Mobile: 321-505-5585 Email: [email protected] Lili Rose Marketing 
Pushing past barriers from the AZ Jewish News Mar. 1st 2022
Lily Brasch does not want to be considered disabled. Born with a rare form of muscular dystrophy, Lily has faced her challenges head on with an optimistic attitude and tremendous determination. And at the youthful age of 22, positive thinking has been an important part of pushing past her barriers.  
She did not always have the ability to tap into her positive mindset though. About a year-and-a-half ago, Lily, who is an Orthodox Chicago resident from a large, supportive family, went to her father and shared her struggles with him. Lily explained that she did not want to feel sorry for herself, and she also did not want others to struggle with negative mindsets either. 
Lily's father told her that we do not know whose life is better or whose life is worse, and we can only trust that we are given what we need to lead a meaningful life. That mindset shift immediately made Lily feel better and drove her to continue challenging herself in ways that would also inspire others. 
Consistent training and hard work has pushed Lily past her barriers, and she began to dream about what she could do to inspire others to shift their mindset and push past boundaries. In this desire to inspire others, Lily created Born to Prove, an organization dedicated to fostering positivity, empowering minds and prove to the world that individuals with differing abilities should not be forced to feel inferior.  
"Judaism (also) plays a big part of who I am. My values are what drives me to do what I'm doing," shares Lily. 
Her hope is that she can inspire others to not give into the fear of failure but instead push past those fears to accomplish anything you set your mind to. Lily, has pushed past her own obstacles and proved doctors that said she may never be able to walk wrong by becoming a talented weightlifter and athlete.  
"Everyone has a struggle. You can call it a disability, but everyone has barriers," said Lily.   
And all of Lily's training will come in use as she gets ready to climb "her Everest," also known as Camelback Mountain, this Sunday, March 6. Camelback Mountain is known for its challenging terrain and level of difficulty. But along with a team of supporters including her family and special guests like Zion Clark, a Guinness World Record-holding athlete, Lily will climb the famous mountain and declare March 6 as "Physical Independence Day." 
Her day-to-day routine leading up to this climb has included weightlifting, swimming, mountain climbing, and consistent physical and mental training, and Lily has worked with trainers and other motivational minds to reach her goal. One of those minds is Tom Jones, an extreme athlete and motivational speaker, who taught Lily how to deal with negative thoughts and how to maintain the positive thoughts going forward.  
"My whole life I've known that mental health is important," says Lily, "but I've learned to take it more seriously during my training and have seen such a great improvement."  
Lily hopes that whomever can join her on Sunday will share the message that anything is possible. Besides training for the climb, Lily has been keeping busy by writing a book and finishing a documentary aimed to inspire others to join together and push past mental and physical blocks. She says she wants everyone to understand that every person has a reason for living and the importance of living every moment to the fullest.  
When it comes to her ability, Lily shares "it's what I was given – I'm not less or more worthy as a person. I see it as a blessing, and I use what I have to help others find their own strength."
Lily at Friendship Circle Cleveland, OH  
Rabbi Yossi and his Wife Este and 2nd Picture Lily and Rabbi Peysin.  
3rd Photo Lily in front of the Case Western Reserve Chabad House