Healthy Referral Newspaper
216-533-2273
[email protected] and [email protected]
Ms. Minor's background includes ~ "proud mother of three"~ Grandmother of 4 ~ Lover of LIFE ~ Past Real Estate Agent ~ teacher of Dance Aerobics, the YMCA's Way to a Healthy Back Program ~ Trainer of Trainers for the YMCA's Way to Weight Management ~ graduate of the Landmark Personal Development course ~ she is originally from the Uniontown, PA, area.
Ms Minor is on the advisory board for the National Health Federation, the oldest health freedom organization in the world.
Ms. Minor has also hosted the HealthyReferral's Mind Your Body and Spirit radio show on WERE, WUJC John Carroll U., WELW Willoughby, and on www.artistfirst.com one of the first and oldest all internet radio station based in Ohio with over 500,000 listening to www.artistfirst.com monthly.
Ms. Minor's guests have included: Dr Christopher Hills, Ram Dass, Mladen Golubic, M.D., Ph.D. Cleveland Clinic, Actor Dennis Weaver, Patch Adams, M.D., Arun Gandhi, Gandhi's grandson; Lewis Mehl Madrano, M.D., native American healing; Gabriel Cousens, M.D., national author on Conscious Eating: Susan Bradley, author on relationships; Howard Lyman, the famous cattleman that was sued for his appearance on the Oprah show for exposing the meat industry, and Caldwell Essselstyn, M.D., author Prevent and Reverse Heart Disease (also on staff Cleveland Clinic/former Olympian Rowing).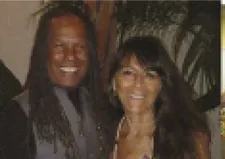 Marchia with Rev. Michael Beckwith at the International World Film Fest
Marchia and Patch Adams, MD. at our Int. Natural Health and Foods Expo

Marchia at the Alive Fest in Atlanta hosted and to benefit Project Green

Listen to Marchia Friday's 5:30 pm HERE or by phone 515-605-9766 All shows are Archived for 24/7 listening at LINK above.
Marchia is also the co-founder of the 15 yr running annual Int'l Natural Health & Foods Expo
In addition, Marchia is the Founder/creator of "Dance of Spirit" Sacred Dance Performance along with her workshop entitled, "Re-Awaken" Your Spiritual Essence thru Music/Sound & Movement. She has performed "Dance of Spirit" & facilitated her workshop throughout the country/& touching internationally.
One of the Most BeautyFULL times was when Marchia & her granddaughter, Kodi, performed "Dance of Spirit" together at the Unity Church of Greater Cleveland….they will be doing more together in the near future****
Marchia is also a Reiki Master & a CMP (Certified Massage Practitioner) If you are interested in having Marchia perform "Dance of Spirit" at your church/center/gathering etc and or facilitate her workshop ~ please call 216-533-2273 or email at [email protected]

Another ph # is 347-6-UR-WELL
She is also available to do Speaking engagements on Natural Health & Personal Growth. Marchia looks forward to hearing from you ~ & sends smiles & lots of lov & light to all……

Thomas Katovsky, cofounder on the left is shown at the Healthy Referral International Natural Foods and Health Expo Mr. Katovsky, a graduate of Shaker and Miami U., worked in the tennis clubs business for over 10 years including coaching Kent State and John Carroll U. Mr. Katovsky was also a volunteer coach at the Israel Tennis Centers in Tel Aviv working with the former Davis Cup Coach Ron Steele.

A former Big Brother, volunteer for National Junior Tennis League, and Sport for Understanding in Denmark, the newest 20 year project is building an international tennis learning center for kids now being proposed to the City of E. Cleveland. This is modeled after the Israel Tennis Centers and the Arthur Ashe Center in Philadelphia.